Do you want to be part of the amazing Erasmus experience in a city between Europe and Asia? Istanbul is one of the most popular cities in the world. It is the only metropolitan that has territories from two continents. It brings us a rich culture with a combination of European and Asian cultures. Most people think that the capital of Turkey is İstanbul, but the capital city is Ankara. However, İstanbul is more popular than Ankara. More than 12 million foreign visitors came to İstanbul last year. It hosts a lot of events, festivals, concerts, and international activities.
Also, İstanbul provides the best opportunities for students. It has the best universities and academicians in Turkey. There are a lot of Erasmus and exchange agreements between universities from Europe and the United States. Most of the universities have is 100% English departments/majors. Also, various departments provide education in French or German.
İstanbul is a student-friendly city, especially for international students. The currency of Turkey is the Turkish lira. 1 Euro equals approximately 6.50 Turkish lira. It means that Erasmus grand will cover almost all living costs in Turkey. So you can enjoy your Erasmus without concern about financial issues.
Depending location of your university you can share a flat with other international students. You can communicate with Erasmus clubs of your university or ESN communities. If your university located on the Asian side you can stay at Kadıköy or Üsküdar. They are in the city center and if you stay in these two places you can use the subway, ferry, Metrobus, minibus or buses. İstanbul has a very good transportation network. You can reach every part of the city easily. Also, Kadıköy is a very popular location among students because it is very close to a lot of universities such as Marmara University, İstanbul University State Conservatory, Yeditepe University.
If you planning to at European side of İstanbul you can choose Beşiktaş or Şişli. They are in the center of the European side and provided a lot of options for transportation. You can go wherever you want for different vehicles in a short time. Although İstanbul is suffering from crowded and traffic still we have many alternatives for transportation. So you can go to your university easily from these locations. Bahçeşehir University, Yıldız Technical University, Boğaziçi University are located in Beşiktaş. Also Şişli another option for students because thanks to the metro/subway you can get rid of traffic problems.
Actually, the European or Asian side does not matter much this advice fort o reach your university as soon as possible. You can change the continent less than 20 or 30 minutes. Most of the people are living on the Asian side and working on the European side or opposite. There is no difference in terms of culture or lifestyle. If someone does not tell you, probably you will no understand that it is the European or Asian side. So, don't worry, even if you stay European or Asian side you can go to another one easily.
When you come to İstanbul, first of all, you will start your life as a tourist. You will visit Hagia Sophia, Topkapı Palace, Grand Bazaar, Blue Mosque, Basilica Cistern, Istanbul Archaeology Museum. Then you will search for new places.
Cafes/Restaurants in İstanbul
Kahvaltıcılar Sokağı – Breakfast Street(Beşiktaş)
Everybody knows that Turkish breakfast is very famous. We eat a lot of dishes at breakfast and we really like it. In this Street there a lot of cafes for breakfast and most of them serve similar foods with similar prices. The most popular ones are Çakmak Breakfast, Pişi Breakfast, and Faruk Breakfast Saloon. They are not one of the luxury and expensive cafes. It is totally student-friendly and economic. You can order breakfast and some aperitifs such as pişi(fried dough), gözleme(cheese pie) or menemen(egg and tomato).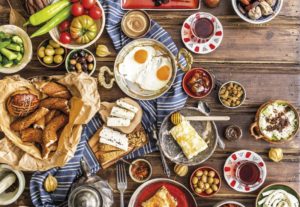 2- Dürümcü Emmi (Kadıköy)
It is a kebab restaurant in Kadıköy. You can try Adana Kebab or Urfa Kebab. It is a long, hand-minced meat kebab mounted on a wide iron skewer and grilled on an open mangal filled with burning charcoal. Also, you can try Lahmacun which composed of dough and meat or Shish Kebab. You have to try İçli KöfteI(meatball) and Çiğ Köfte (raw meatball dish) as an appetizer. Also, they have a special soup which contains meat, rice, and garlic which called Beyran.
It is a very small shop and they have very special burgers. It is one of the Street foods and they are serving wet-burgers. It is wet because it includes a source from a tomato with garlic. It is very popular and most of the people eat more than one hamburger because it is small when we compared it with other burgers and cheap. You can see a long line in front of the shop but don't worry, they are very fast in serving.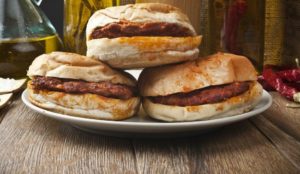 4- Karadeniz Döner (Beşiktaş)
They have the best döner kebab in the city. It is in the center of Beşiktaş when you close there you will recognize easily because probably you will see another long line but it is worth it. However, their meat finishes at approximately 4 or 5 pm so if you want to try it you have to be there before evening.
5- Happy Moons (Kadıköy, Beşiktaş, Ataşehir, Üsküdar, Esenyurt, Ataköy, Bakırköy, Maltepe)
If you want to try some foods from the world cuisine you can prefer Happy Moons. It is not the cheapest one but when you consider their portions and plates it can be a good alternative for weekends. They have dishes from Mexican cuisine to Italian cuisine.
6- Walter's Coffee Roastery (Moda)
 Third-wave coffee shops became very popular in İstanbul. They have very delicious coffees with different aromas. Also, it is decorated with the inspiration of Breaking Bad. So you can wear your yellow jumpsuits and take your selfies. Moda is close to Kadıköy. You can walk or take a tram.
You can discover the rest of the restaurants and dishes in the period that will you stay in the city. However, you can plan your trips before you come. Even if you are coming to the biggest city in Turkey you have to see other locations too. Cappadocia, Pamukkale (Cotton Castles), Ephesus and maybe other big cities such as Ankara, İzmir, Antalya. Also if you want to see natural beauty such as forests or waterfalls rather than history you can visit Trabzon, Artvin or Rize.
You will see another culture middle in Europe and Asia and experience amazing Erasmus life. When you are returning to your home country you will have a lot of memories, friends, selfies, and kilograms.
Melisa Altun
Studyingram Editor