Going university abroad is a big decision and it may seem a bit daunting for students. Moving away from the home for the first time, meeting new people, thinking about the financial part and studying in a different education system; with these all situations, to make sure about the most suitable university, city and couses is really important.
There are more than 4,500 universities in the USA, and today about 30 percent of all current international students in the world are studying in the United States. Moreover, there are currently around 11,600 students from the UK enrolled at American universities according to the Fullbright Commission.
If you are thinking to apply but are still weighing up the pros and cons, then you are in the right place. Because, this guide will serve as an introduction to the American higher education system, universities in USA and scholarships.
Why Study in USA?
America is home to many of the world's most respected universities, including the likes of Harvard, NYU, Yale, Brown and Stanford. They are widely known for the high quality of teaching and research, learning resources and extracurricular activities. The education system in USA is the most versatile and flexible higher education system for international students in the world. Some qualifications that they have;
Academic Excellence
Diversity of Education Opportunities
Cutting-Edge Technology
Opportunity for Research, Teaching and Training
Flexibility
Support Services for International Students
Campus Life
Global Education
The possible reasons that UK students choose to study in USA are; they they would like to experience living in another country and add an international element to their CV, others may be attracted by the more modular study system in the US which means that, unlike in the UK, you do not need to decide what you want to major in straight away.
Most Popular American Universities
Based on rankings from US News, we have brought close together top 10 universities in USA but however, due to ranking systems are based on a variety of statistics, it does not directly mean the best universities are right for your chosen career path.
1-Princeton University- $50,340
Princeton University is in a quiet suburban town of New Jersey. Enrollment of new students is around 5,200 a year.
For applying: https://www.princeton.edu/admission/applyingforadmission/
2- Harvard University- $67,580
Harvard University is often cited as the best university in the world. The campus is located in a typical urban setting, just outside of Boston, MA. Harvard enrolls around 6,000 students a year.
For applying: https://www.harvard.edu/admissions-aid
3- Yale University- $51,400
Yale University is a private university located in New Haven, Connecticut. It is the third oldest university in the USA and one of the most prestigious one. It had enrolled 5,310 students last year.
For applying: https://admissions.yale.edu/freshman-application-process
4- Columbia University- $74,199
 Columbia University is a private American university based in Morningside Heights, Manhattan, New York, USA. It is the oldest university in New York and the fifth old university in America. It has one of the most attractive locations for UK students.
For applying: https://www.columbia.edu/content/admissions
5- Stanford University- $71,587
Leland Stanford Junior University, also known as Stanford University, is a private university located 40 km southeast of San Francisco in a suburban setting in the state of California, USA. The University is currently the 3rd largest university in the world with the largest budget.
For applying: https://www.stanford.edu/dept/uga/application/
6- University of Chicago- $75,735
The University of Chicago is a private university founded in 1890 by John D. Rockefeller and it is located near to Chicago. After Columbia University and Cambridge University, it is the third school with the most Nobel Prize-winning academicians in the world.
For applying: https://collegeadmissions.uchicago.edu/
7- Duke University- $74,339 
Duke University Durham, North Carolina, dates back to 1838. In the United States, which is based on university rankings and U.S. In the 2011 issue of News & World Report, it ranked 9th in the world.
For applying: https://admissions.duke.edu/application/instructions
8- Massachusetts Institute of Technology – $73,160
The Massachusetts Institute of Technology, or MIT shortly, is a technical university located in the Cambridge neighborhood of Boston, Massachusetts, known with its prestiges on science, engineering and economics.
For applying: https://mitadmissions.org/apply/international/howto
9- University of Pennsylvania- $53,534
The University of Pennsylvania is a private research university that is a member of the Ivy League in Philadelphia, Pennsylvania. The University of Pennsylvania is first university of America and one of the oldest four higher education institutions. It has has nearly 8,000 enrolments every year and with an acceptance rate of around 14%.
For applying: https://admissions.upenn.edu/admissions-and-financial-aid
10- California Institute of Technology- $72,084
California Institute of Technology is a technical university that focus on science and technology. It is located in the Pasadena neighborhood of Los Angeles, California, USA.
For applying: https://www.admissions.caltech.edu/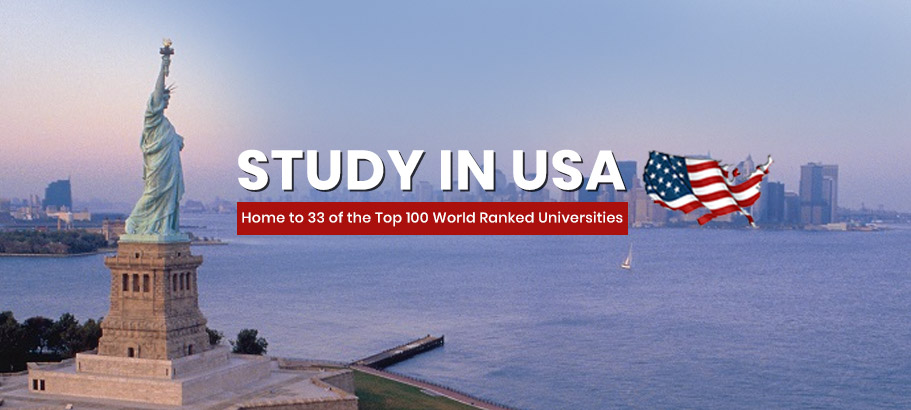 All tuition fee figures listed are the average cost per year for 2018-19. It is important to remember that these don't include the added cost of living and renting accommodation. For this you would need to add on around $8.00- $15.000 for a year depending on your arrangements and living style. And unlike in the UK, your fees need to be paid in advance of each semester. You can pay for the whole year at once, or semester by semester, but either way it's a significant sum of money to have to find each time.
Unfortunately the US college system doesn't benefit from a central body such as UCAS in the UK, so the first step to studying in America is doing a lot of your own research before you ultimately get into the right US university or college for you.
Degree Courses in the USA
There are two types of undergraduate degree on offer in the USA:
Associate degrees – take two years to complete and are usually studied at technical, community or junior colleges. Students can study for an associate qualification in a range of subjects and then transfer to a Bachelors programme to complete an additional two years of study to gain a Bachelors degree.
Bachelors degrees– take four years to complete. They differ from UK undergraduate degrees in that students study a variety of subjects before deciding on which to focus on, known as a 'major'. Students may also gain a 'minor' qualification by completing classes in an additional subject alongside their 'major'.
For master degrees, there are two types of graduate degree:
Academic/research – usually completed in two years (some courses may only take one). Academic graduate degrees generally lead to a career in academia or research.
Professional– these are designed to prepare students for particular professions. They take two years to complete.
How to apply?
Process is different than the UK. Unlike the UK there is no central organisation like UCAS to process these applications, you can apply to as many universities as you wish. The Common Application form is used to apply to over 500 of them, which is a standard application form but many of the universities will request additional information. You can also have admissions tests.
Scholarships and Funding
 If you say the fees are too much to apply, you can consider the scholarships. This financial aid will help you to cover your living costs too in addition to the tuition fees. The best place to start searching for scholarships is to look at the university you are applying to. In 2014/15, 86% of full-time undergraduates at American universities received some kind of financial aid – and often the colleges with the highest listed fees (which are usually the big names like Harvard and MIT) have the most generous support packages.
Many American universities offer scholarships by looking at the following categories:
Needs-based scholarships: Your financial need is calculated by subtracting the amount your family is able to contribute towards your university education from a university's published cost of attendance. If you can pay the full cost of attendance, you will receive no financial aid.
Niche scholarships: Niche scholarships are offered to attract particular applicants, in order to fulfil a particular mission or need at the university. Applicant criteria can be based on gender, country of origin, ethnicity, interests, talents, religious domination, medical condition.
Merit-based scholarships: Awarded to students with outstanding results in a particular area of study such as official school qualifications and grades, admissions exam results, performing arts talent, community service, extracurricular involvement.
Sports scholarships: Awarded to students that excel at a particular sport.
For more information: http://www.fulbright.org.uk/going-to-the-usa/undergraduate/educationusa-advice/funding/university-funding
To find the scholarships: https://www.fundingusstudy.org/home.asp
Some universities run a need-blind policy for all aplicants which means that your application will only be assessed on your acedemic credentials. However, very few universities in the USA are need-blind and offer full financial need to international students. These universities do not take your finances into account during the admissions process and will meet your full financial need if you are admitted. They are the most competitive for admission.
If you are not eligible for any financial aid, you can still apply for American student loans. You will need an American citizen to be your guarantor for getting loan and unlike in the UK where all loans come courtesy of the Student Loans Company, you will have to choose which provider to go with. Interest rates and repayment scheduls can differ.
For the other option, you can find a part-time job to help to recover your studies. You will be allowed to work on-campus 20 hours per week. But during the holidays, you will be able to work 40 hours per week.
The main differences courses in the US and UK
Course flexibility – US courses are often flexible with elective modules that allow you to tailor your study to suit your academic interests.
PhDs take longer in the US – US doctoral programmes follow taught courses for one to two years, followed by research leading to a dissertation. Exemptions from taught courses may be possible. PhDs are difficult to finish in less than five to six years.
Special Student Status at Harvard University offers one year's study without the award of a degree. Funding is available only through scholarships or self-funding.
Conclusion
By going abroad, you will come out a different life experience and having a degree from American university will make your CV greater than any other potential employees. There are tuition fees but however, it is possible to find scholarships and have loans to recover your costs or even you can work in a part-time job. So, only thing that you need to do is just researching well before going to find the most suitable courses and university for you.
Seyhan Kantar
Blog Editor of Studyingram