STUDYING IN ANKARA
Erasmus is an important experience in the lives of students. Which university will you choose to study? Have you ever thought? If you are planning to come to Ankara, you will find information about some universities and some places to visit in Ankara in this article.
YOU SHOULD VISIT THESE PLACES!
HAMAMÖNÜ
It is a place that travelers should add to their list of places to visit in Ankara to see the historical face of the city.  With different houses, cultural events, renovated cafes and restaurants offering unique tastes, this historic settlement offers a wide range of options. Here, you can start tour in the place where yo ucan find authentic items at Handicraft Market. Also, you can drink Turkish coffee made in sand.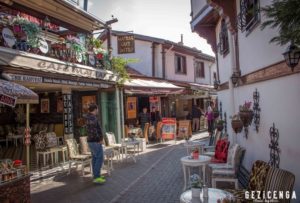 ANKARA CASTLE
Ankara Castle, which has a history of more than 4 thousand years, has been repaired by various civilizations since it is used for both defense and settlement purposes. You can visit the historical building surrounded by gift shops and cafes and then you can visit the Museum of Anatolian Civilizations, which is the continuation of this cultural facility dedicated to the Hittite Civilization.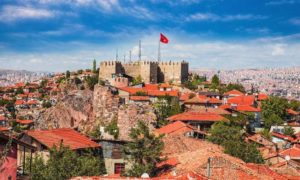 ETHNOGRAPHIC MUSEUM
The Ethnography Museum contains the most important examples of Turkish art created in the process from the Seljuks to the present day. At the entrance, you can see statue of Atatürk which was built by Pietro Canonica. Here you can take a chance to explore many different works from daily items from different regions of Anatolia to collections of carpets and rugs, from Ottoman weapons to china and porcelain ornaments. The museum also has a large library of art history, including Ottoman manuscripts.
ÇENGELHAN RAHMİ KOÇ MUSEUM
Ankara Rahmi Koç Museum is located in the historical caravanserai called as Çengelhan. The rooms are thematically separated. There are many nostalgic items in the museum, from toys, old scientific tools, tractors, old bicycles, diver's clothes, old aircraft engines, typewriters, computers, model houses to artisan shops. Rahmi M. Koç Museum, which is the first industrial museum of Ankara and which exhibits objects from all countries and from all times. It is also interesting for children.
ANITKABİR
Anıtkabir ranks first in the travel list of many travelers who go to Ankara because of its spiritual value and historical richness. The mausoleum which is tried to be built in accordance with the glory of the Great Leader Atatürk, is also one of the most magnificent projects of our country in terms of architecture. If you want to see Atatürk's clothes, clothes, gifts given to him when he was alive, you can visit Atatürk's Mausoleum and Atatürk's Tower. Gazi Mustafa Kemal's private library is on display at the Art Gallery where you can enter the Republic Tower.

UNIVERSITIES THAT YOU CAN STUDY IN ANKARA
MIDDLE EAST TECHNICAL UNIVERSITY
METU has 5 faculties, 3 of which are international joint programs, 5 institutes with 105 master's and 70 doctorate programs, and the School of Foreign Languages providing English education. There are 15 undergraduate and 5 graduate programs in METU Northern Cyprus Campus. There are undergraduate and graduate students from many countries who are studying at METU for one semester or one year as "Special Student" or "Exchange Student". METU currently conducts Student Exchange Program activities with many foreign universities. METU is a highly respected international research university in the region. More than 1,700 foreign students are the leading Turkish universities in terms of international connections. During the academic year, students can benefit from art activities, exhibitions, music events and a wide range of social and academic activities on campus. Many of these activities take place at METU's Culture and Congress Center. The traditional International Spring Festival, in which the social activities of the year peak, is in May.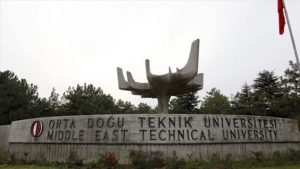 HACETTEPE UNIVERSITY
In the field of medicine it is one of Turkey's best universities. When the faculty of medicine is mentioned, the first university that comes to mind is Hacettepe University. Also, one of the biggest advantages of this university is to help individuals who want to improve themselves and to support their goals. If you are at Beytepe Campus, you will find a 24-hour library, free gym, Olympic swimming pool, American football field, tennis courts, Green Valley,City Center. Most of the students can easily find the studens clubs that suit them. Clubs that focus on social responsibility projects are the most active. And this university is part of the Erasmus program and it provides opportunities for countries with good education in Europe.

ANKARA UNIVERSITY
Ankara university; It was founded in 1946 as the first university of our Republic. Aiming to carry out education, teaching, research and community service at universal level; Ankara University, which aims to reach information, to produce, to apply, to disseminate and to educate individuals equipped with this information. Many sports, cultural and social opportunities are provided to enable students to make the best use of the time spent outside the classroom. The University has an Olympic-size swimming pool, five gyms and three exercise rooms under the Health, Culture and Sports Department. Ankara university; It is part of the European Union Lifelong Learning / Erasmus Program. Within the scope of this program, students can study and do internships at EU Universities on the basis of student exchange.
Cansu Kaplan
Studyingram Blog Editor