Izmir Guide for Erasmus and Study Abroad, Izmir is the third largest city in Turkey on the Central Aegean cost with a population of around 4 million. The half of the population is under the age of 30 and it makes İzmir a city with the full of life. It is a good choice to do Erasmus in Izmir because there are 8 universities, so the city is hosting many university students.
If you think to come to Izmir to study abroad, but you wonder about the universities, places to go, food to eat; then this writing will be use for for you in order to Izmir guide you by giving short informations.
Izmir Guide for Erasmus and Study Abroad
History
The history of Izmir goes back to around 3000 BC when the Trojans first came. Later on, the city has hosted many civilizations such as Persians, Ancient Greeks, Assyrians, Romans, Byzantines and Ottomans during its long history. Since 9th September 1922, which is called as the day of the city's liberation, it has been become one of the main cities in Turkey.
Climate
Due to its geographical location, almost 300 days pass as sunny days. The weather in summer is dry and hot, however there are many nice beaches that you can swim and freshen, so it is better to take swimsuits with you. Also, the weather is usually windy and rainy in winters. So, we recommend to take an umbrella with you before you go out.
Izmir Guide Universities
There are totally 8 universities in İzmir together with the private ones.
Dokuz Eylül University
Dokuz Eylül University was established in the year of 1982. It is a public university that has 17 faculties, 10 institutes and graduate schools, 3 schools, 1 conservatory, 6 vocational schools, 60 research centers, 1 Research and Application Hospital and DEPARK.
It provides education to more than 70.000 students. Also, it has campuses in several districts of İzmir such as Buca (Center– Dokuzçeşmeler – Tınaztepe) Balçova, İnciraltı, Alsancak, Narlıdere, Hatay, Urla, Seferihisar, Ürkmez, Karşıyaka, Foça, Torbalı, Bergama and Selçuk. However, the main campus is located in Buca, Tınaztepe.
For more information: http://international.deu.edu.tr/en/deu/
Ege University
Ege University, the fourth founded university of Turkey, was established in 1955. By the year 2019, Ege University includes 17 Faculties, 9 Institutes, 4 Graduate Schools, 1 State Conservatory of Turkish Music, 10 Vocational Schools, 6 Rectorate Units, 37 Application and Research Centers. It is hosting more than 60,000 students. It is a public university that located in Bornova.
For more information: https://ege.edu.tr/eng-7207/.html
Yaşar University
Yasar University, an English medium, foundation university, is located in the centre of the city of Izmir on the scenic west coast of Turkey. It is establed in 2001 and its campus is located in Bölge, Bornova. The university offers over 60 degree programs at undergraduate and postgraduate level. Students are given every opportunity to make the most of their university years; a professional education in a supportive learning environment. medium of instruction is English (except Faculty of Law). Also, you can take another language classes such as Japanese, Spanish, Russian, German, French, Italian.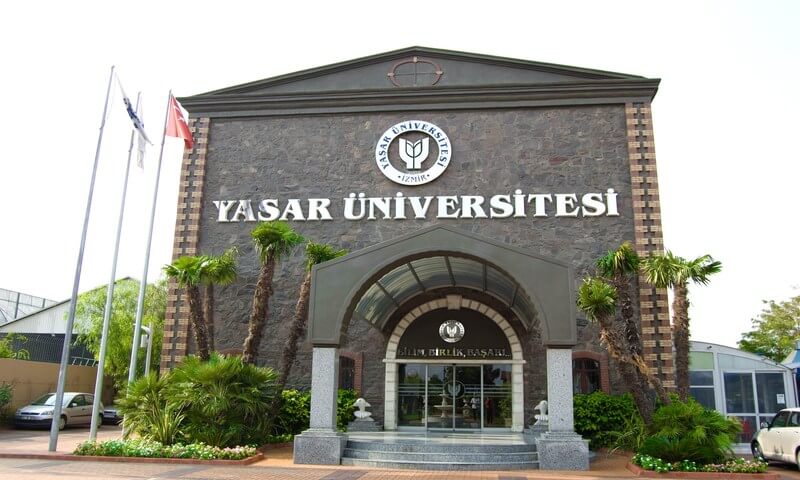 For more information: https://www.yasar.edu.tr/en/
İzmir University of Economics
İzmir University of Economics (IUE), which is the first foundation university in İzmir and in Aegean region, was established in 2001 by the İzmir Chamber of Commerce Education and Health Foundation. It has more than 7.500 students  in an extensive variety of fields in 7 faculties (38 undergraduate programs), 2 graduate schools (35 master programs, 6 PhD programs), 2 schools, and 3 vocational schools. The medium of instruction is English (except Faculty of Law). It is compulsory during the entire study period for all undergraduate students to choose and keep learning a second foreign language out of nine language alternatives (German, French, Chinese, Japanese, Russian, Italian, Spanish, Greek, Portuguese).
For more information: https://www.ieu.edu.tr/en
İzmir Institute of Technology
It is a public research university in İzmir, and the only institute in Turkey that specifically focus on scientific research. It is founded in 1992 and it maintains a strong emphasis on the natural sciences and engineering. İzmir Institute of Technology is often cited among Turkey's top universities. İYTE has 16 academic departments, most of which are organized in 3 faculties. The campus is located in Urla, 40 km away from the center.
For more information: https://en.iyte.edu.tr
Katip Çelebi University
Katip Çelebi University is a public university that is founded in 2010 to be a pioneering university that produces, uses and shares information. It is located in Çiğli. It has 12 faculties, 3 institutes and 3 high schools. It has more than 4,500 students.
For more information: https://ikcu.edu.tr
İzmir Democracy University
İzmir Democracy University is a public university that is founded in 2016. It has 10 faculties, 3 institutes and 3 high schools.It has two campuses; one in Üçkuyular and one in Güzelyalı.
For more information: http://www.idu.edu.tr
İzmir Bakırçay University
The name of Gediz University, which was closed in 2016, was changed and reopened in 2017 as Bakırçay University. It has 5 faculties and the campus is located in Seyrek, Menemen.
For more information: https://bapk.bakircay.edu.tr 
Where to Go? How to take Izmir Guide
There are many places to go in center also along with the seaside.
Konak Square
It is the main square of the city center that you can also see the clock tower which is one of the symbols of the city. Here, you can also see Konak Yali Mosque and walk in the Kemeraltı Bazaar. In Kemeraltı Bazaar, there are many small shops, so it is possible to find anything that you need. We recommend you to go to Kızlarağası Han and drink a cup of turkish coffee there while sitting on the small chairs and enjoy from the atmosphere.
Asansör (Elevator)
It is built in 1907 by a businessman, the historical building was crafted in order to make a connection from the lower level of Karatas to the upper hillside. Elevator was built for elderly, pregnant and disabled people to get up to the top street without difficulty. Later, the municipality gave it to the citizens. You can use the elevator to go up and you can be fascinated from the view that you would see. Then, you can go down to have a cup of coffee, there are beautiful coffee shops.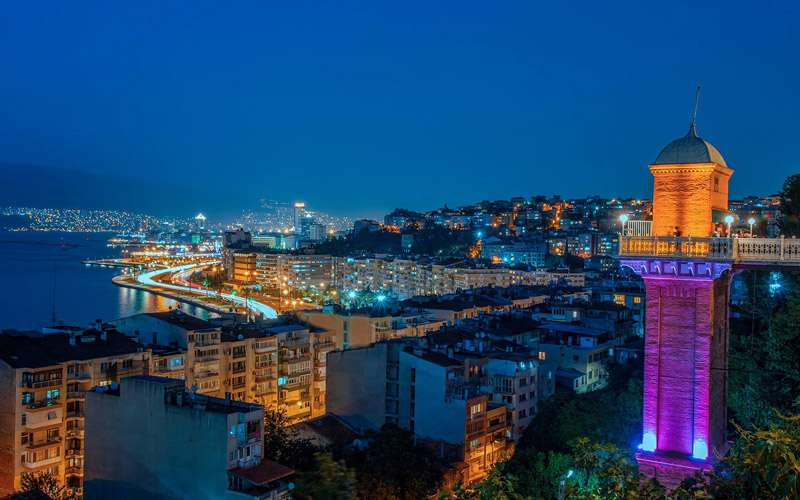 Alsancak
Alsancak is a place with lots of pubs, clubs and cafes that you can go to meet your friends and have fun or just to sit and chill. Also, we recommend you to go to Kordon which is the coastline. You can there sit on the grasses, drink and enjoy free.
Bornova
Because of the reason that there are 2 universites located in Bornova, the people who live there are usually young and student. So, there are many cafes and pubs with the cheaper prices.
Karşıyaka
It is located in the other part of İzmir Gulf. Karsiyaka also offers lively nightlife and one of the Izmir's main pedestrian shopping streets. It can be reached by ferry (vapur) and Izban.
Bostanlı
It is also in the other part of the İzmir Gulf with a nice coastline. You can go to footbridge and watch to sunset there. Also, there are many pubs and cafes in Bostanlı but however, they are more expensive than the other places.
Kadifekale
The castle from the Alexander the Great period is located there. You can enjoy the view on the top, it feels like whole İzmir is standing under your feet. Also, on Saturdays a small bazaar is set up in which the producers sell their natural products.
Teleferik (Cable Car)
There are restaurants, cafes and gift shops located on the top of the hill, also you can make barbecue.
Beaches Izmır Guide
There are many nice beaches nearby to city center, it takes 1-1,5 hours to reach and also public transportation is available. Some nice places that has beaches: Foça, Dikili, Çeşme, Karaburun, Seferihisar, Urla. If you check on the internet, Çeşme is really famous one but the most expensive comparing to others, however Seferihisar and Karaburun are budget friendly. You can take a native Izmir Guide.
What to Eat?
Boyoz, is a local pastry that comes from the Jews, from the Sephardic cuisine. It is a bit oily, however it is the only city that you can eat it. Also, it tastes really nice together with a boiled egg and a cup of tea. There are different variations of boyoz, such as boyoz with artichoke, spinach, cheese, and tahini. It is better to it when it is hot and came just out of the oven and you can find it in any corner shops or bakeries.
Gevrek, is a seeded bread ring that is special to İzmir. However, it is also known as simit in other cities. But, actually gevrek is a different taste because it is sunk in molasses before baking. It is crispy and it is usually eaten with tomatoes, cheese, pepper and a cup of tea in breakfasts. You can find it easily every hour of the day.
Kumru, is a food that you can find only in İzmir. There are two types of it; first one is a warm sandwich made with a special bread with sesame seeds, Turkish sausage, grilled cheese and tomatoes, second one is vegetarian option without the sausage and with cheese, tomatoes and green pepper. You can find the best Kumru with sausages in Çeşme. The other one, you can find easily in bakeries.
Fish, and seafood take an important place in the food culture. Since it is a seaside city, different types of fish are easily accessible. You can drink rakı, which is the traditional Turkish alcohol, while eating fish and mezes. It is really fun to sit with friends, drink rakı and listen the traditional musics, so you can keep in your mind to do it for a night.
Tulum Cheese, is also special to İzmir which is a bit salty. Take a native Izmir Guide for you.
Şambali, is a traditional Turkish dessert. There is a small place in Kemeraltı that only sell şambali, you can try with the creamy and without ones and drink tea while eating. It is really famous place, do not feel hot and cold all over when you see the long queue in front of the place.
Bomba, is a famous pastry in İzmir. It looks like a cookie with the thick chocolate inside. The best place to eat is Çelebi in Alsancak.
Vegetables, are really important in food culture. There are really different types of vegetables and plants that is growed in the villages. Try those ones, you woul not regret.
Seyhan Kantar
Blog Editor of Studyingram