Final exam weeks can be the most stressful time for a student at university or graduate school. You can be better prepared for your exams with these study tips that can help you overcome your finals. Follow this list as the final week approaches (the sooner you prepare, the better) so you can practice your exams from start to finish as a succesful period.
Ask questions.
Professors and assistants are there to help you. You can be prepared for the exams in advance by asking them questions related to the subjects and exams.
Attend repeat classes.
The last lesson before the exam is usually re-lecture. In this course, you will learn important information about the format of the exam, what subjects are included in the exam, and the basic concepts to be focused on.
Start early.
If you work on a daily schedule, you won't be squeezing the night before the exam to study all the subjects. If you do, you'll perform better than ever!
Organize a group study session.
Sometimes it can be helpful to work in groups. Consider whether working with others will benefit your learning as well.
Check out what is not in the study guide.
Educational manuals are not always comprehensive, they only suggest basic concepts to learn. Use your study guide for its intended purpose: as a guide. Be sure to fill in the blanks with relevant information.
Take a break
You cannot memorize or understand all the topics at once. Balance is the key to this. Make sure you know the breaks you need to take to recharge and relax.
Well rested
There is a lot to say about a good night's sleep. Make sure you are well rested so that you can focus fully on your exams.
Create and follow a work schedule.
In fact, splitting up topics into parts can be very useful. That way, you can keep track of what you've achieved instead of looking at the big picture and getting overwhelmed.
Give Importance to priorities
Some exams are more difficult than others, some you can learn more easily. The grade you get from some may be higher than others. Be sure to evaluate all exams and identify all factors considered to adjust your study schedule accordingly.
Study with the style of the exam.
If there is a multiple choice exam, you must know the definitions and concepts. For long essays, focus on your understanding of all the concepts presented, keep examples in mind. If you know the concept of exam, you can exercise in same format and you will be well prepared.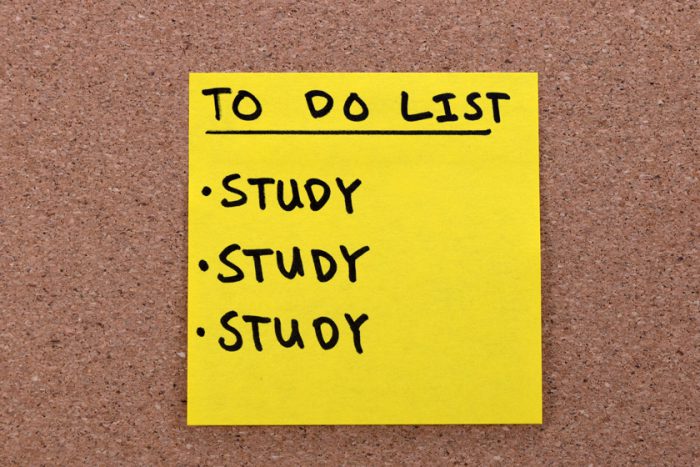 Test yourself.
If you think about and create real exam questions, you will probably be familiar with what you need and in the meantime recognize the type of language you will be taking the exam. Prepare potential exam questions and test yourself so that you can set expectations of the things that need to be addressed.
Talk to your Professor or Assistant.
Often times, meeting with a faculty member can be a professor or an assistant, giving you helpful tips on what to study and ways to prepare for the exam.
Reorganize your notes.
Your notes are easy to understand, evaluate and reorganize important concepts, formulas by summarizing dates and definitions.
Know your own speed.
Make sure you stay focused and don't burn yourself. The best way to do this is to keep pace with yourself, rather than choose to work out scary nights. You can easily move on to yourself by following tips such as starting early, preparing a study schedule, and taking a break as needed!
Tell your classmates.
Learning by teaching method is a really effective method! If you work with a colleague and explain the concepts to each other, you are learning the subject over and over again. It's a great way to reinforce what you've learned and help someone in the meantime!
Stay focused.
Changing your subjects is a helpful way to learn everything for exams as well as prevent burnout in a subject. Make sure your eyes are open before they start to close! This way, you can continue working longer while maintaining focus.
Color coding style
Most important, less important, etc. Create a system that allows you to color-code exam subjects with. This will help you focus on the most relevant information and prioritize topics.
Visualization
If you are a visual learner, visualizing how the concepts you are learning relate to each other can be a great help. This is particularly useful when learning concepts based on understanding each other. Visualization will provide to take more success in exams and remembering.
Make it fun.
It's easier to focus if you get used to reading by creating yourself quizzes, acronyms or rewarding yourself for good work. Make a game plan that allows you to accomplish missions and be rewarded for each. For example, when you finish a unit, you can take a break for chocolate or coffee.